Daily Shark Cage Diving Blog - 27 November 2019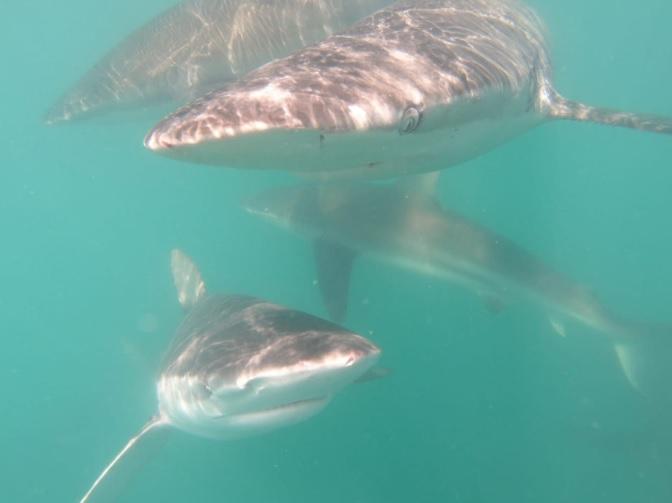 Daily sightings -Cape Fur seals, a stingray, and about 50 copper sharks! A trip filled with enough memorable moments to last a lifetime!
Today we did things a little different and headed to Dyer Island first to show the clients the 60 000 Cape Fur Seals on Geyser Rock.
It was the lucky day for a young female Cape Fur Seal when I spotted it with a net entangled around her neck. Our marine guide, Albert, came to her rescue. He grabbed the boat hook and tried hooking the seal by the net.
The slippery seal shot under the boat and came up behind the boat. I then grabbed the hook tossed to me by Albert and managed to hook the seal. It took some team effort but, in the end, we managed to free her from the net.
We then moved on to our anchor site at Joubert se dam and as soon as we started chumming the copper sharks appeared. Within minutes we had 20 Bronze Whaler Sharks around the boat.
A perfect end to a very exciting trip was when a graceful stingray, with a 2m wingspan, made a brief appearance.
Click here to join us on a trip and get a FREE video link of your trip,