Daily Shark Cage Diving Blog - 13 October 2019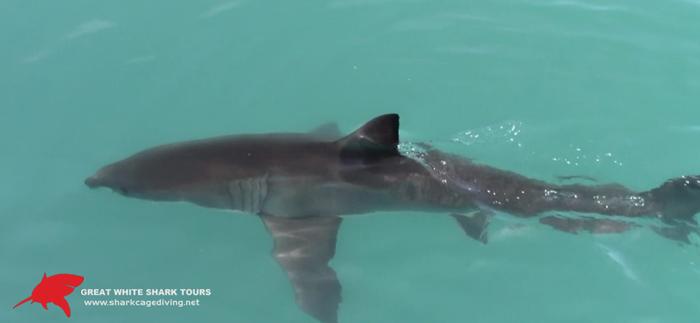 Daily Blog 13 October 2019
Another late start to the morning due to the tide, saw us launching at 10:30 again.
Today we had a strong Easterly wind, which causes a choppy ride to the anchor spot at Jounerts se dam. When we get to the anchor spot we are sheltered by the land, this gives us a somewhat breezy albeit it calm conditions.
We were greeted almost immediately by 5 Bronze Whalers/Copper Sharks and 1 small Great White shark of about 3m.
After a while, there was a huge influx of Bronze Whalers/Copper Sharks and this caused the Great White Shark to be overwhelmed and leave.
Midway through the trip, we decided to move to a different anchor spot to hopefully avoid having large numbers of Bronze Whalers/Copper Sharks.
We found several Bronze Whalers and unfortunately did not get to see anymore Great White Sharks.