A white shark undertook the longest marine migration in the world from Gansbaai, South Africa to Australia
Nicole—is named after Australian actress and shark- lover Nicole Kidman
This lady travelled from Gansbaai, South Africa to Australia and back—a total of 12,400 miles (more than 20,000 kilometres)—in nine months. The feat also set a second record: fastest return migration of any known marine animal.
Her travels have astounded researchers and challenge long-held notions about these awesome predators
Great White Breaks Distance, Speed Records for Sharks
"This is one of the most significant discoveries about white shark ecology and suggests we might have to rewrite the life history of this powerful fish," said Dr Ramon Bonfil, the lead author.
The story of Nicole
Her story began in November 2003, when Dr Bonfil and his colleagues from the Marine and Coastal Management Department of South Africa and the White Shark Trust attached a satellite tag to her dorsal fin.
The tags record data on time, temperature, water depth and light levels. On a pre-recorded date, the tag detaches from the shark and floats to the surface where it transmits its data to a researcher's computer via satellite.
Another 31 white sharks were also tagged during the study.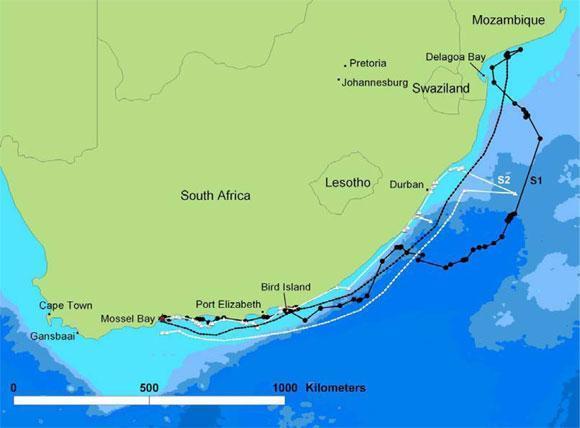 Individual white sharks commonly disappear from Mossel Bay and Gansbaai but eventually return to these preferred sites after several months of absence further suggesting that these long-distance circuit- migrations are common.
While most of them revealed at least three different movement patterns, including wide-ranging coastal migrations up and down the eastern side of South Africa, Nicole headed out into the vast and deep basin of the Indian Ocean.
Tagging Nicole for data
Data transmitted by the tag revealed that she followed a strikingly direct route towards Australia. Although she frequently plunged to depths of up to 3,215 ft - a record for white sharks - she mostly swam along the surface leading researchers to suspect that great whites may use celestial cues for navigation.
A little over three months later, Nicole was swimming about a mile from shore just south of the Exmouth Gulf in Western Australia, where her tag detached and floated to the surface with all of her secrets.
This leg of the journey alone was one for the record books.
Nicole, going home
However, Nicole later re-surfaced back in Gansbaai, South Africa, where she had been tagged. This migration circuit is remarkable not only because it starts and ends in the exact same location but also because it is the fastest known transoceanic circuit-migration among marine fauna, taking j just under nine months to complete a circa 20,000 km trip.
Her distinctively notched dorsal fin was photographed by Michael Scholl, one of Dr Bonfil's team of researchers. After a detailed comparison of images of dorsal fin markings, there was no longer any doubt: Nicole had returned home.

Save
Save
Save
Save
Save
Save